The 2024 Hyundai Santa Fe is a study in contrasts – a blend of old-school ruggedness with avant-garde aesthetics, a juxtaposition of spacious comfort with bold, off-road capabilities. Hyundai's mid-size SUV has been given a radical makeover, transforming it into an eye-catching, boxy beast that is set to redefine the automotive landscape.
A Whole New Look
The 2024 Hyundai Santa Fe embraces a bold new design language, trading its former curves for a straight-edged, boxy silhouette. The new model's front and rear lighting elements are a futuristic delight, incorporating a unique 'H' pattern that showcases Hyundai's distinctive branding.
From the side, the 2024 Santa Fe's extended wheelbase and broad tailgate hint at the SUV's enhanced interior space and cargo capacity. The body-colored trim around the rearmost window glass gives a nod to the Land Rover Defender, while the large roof rack and chunky wheel arch trim emphasize the Santa Fe's newfound off-road prowess.
Interior Innovation
While the exterior of the 2024 Hyundai Santa Fe is a clear departure from its predecessors, the interior has undergone an equally impressive transformation. The cabin now offers an optional third row of seating, making the Santa Fe a more versatile choice for larger families or those who need extra passenger space.
The interior layout has been reimagined to prioritize comfort and convenience, with second-row seats that fold completely flat to increase cargo space. The cabin is adorned with luxurious touches like nappa leather, two 12.3-inch screens, and dual wireless charging pads in the center console, providing a premium experience for all occupants.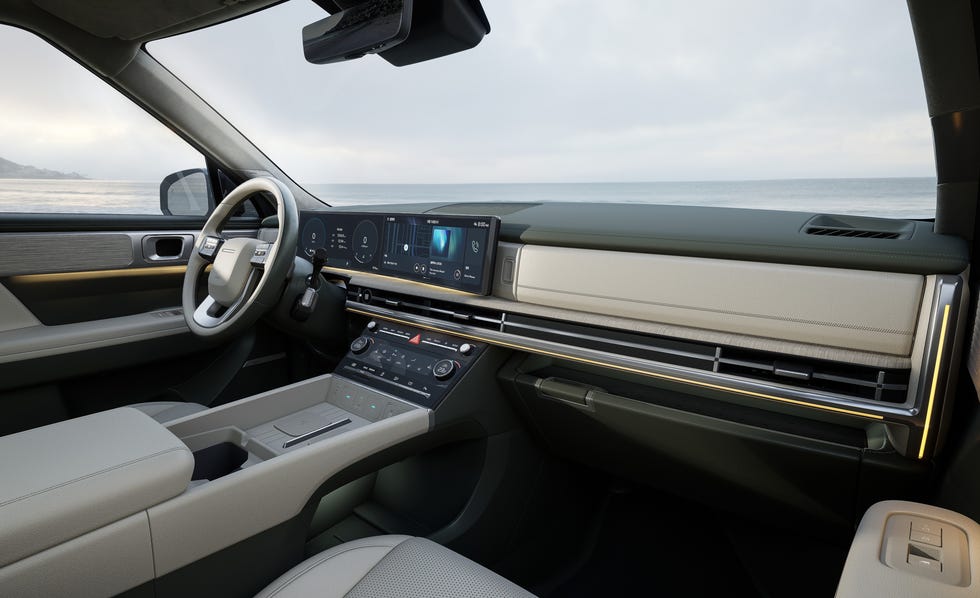 Power and Performance
Under the hood, the 2024 Hyundai Santa Fe continues to impress. The new model is tipped to feature a turbocharged 2.5-liter inline-four engine, delivering robust performance to match its rugged looks. The current Santa Fe's 2.5T powertrain, which produces 277 horsepower and 311 pound-feet of torque, is expected to carry over to the new model, ensuring a thrilling on-road experience.
Sustainable Sophistication
In addition to its performance credentials, the 2024 Hyundai Santa Fe is committed to sustainability. The new model will feature a range of eco-friendly materials, including suede headliner, recycled plastic seatbacks, and eco-friendly leatherette on the door trim. This commitment to sustainability demonstrates Hyundai's dedication to reducing its environmental footprint, without compromising on luxury or comfort.
Pricing and Availability
While Hyundai has yet to announce official pricing for the 2024 Santa Fe, it's expected to command a premium over the current model's starting price of $30,085. Top-spec variants could potentially reach towards the $50,000 mark. The new Santa Fe is slated for a U.S. release later this year, with more details set to be revealed in the coming months.
A New Chapter for Hyundai
The introduction of the 2024 Hyundai Santa Fe marks a new chapter in Hyundai's story. The Korean automaker is showing that it's not only committed to electrification, but also to enhancing its traditional lineup, ensuring that its bread-and-butter offerings continue to appeal to a wide range of consumers.
The 2024 Hyundai Santa Fe is more than just a new model – it's a statement of intent from Hyundai, a clear sign that the automaker is ready to push boundaries and redefine expectations. With its bold new design, enhanced interior, robust performance, and commitment to sustainability, the new Santa Fe is set to shake up the mid-size SUV segment when it hits showrooms later this year.
The new Santa Fe is shaping up to be a standout offering in Hyundai's lineup, and we can't wait to see it in the flesh. Stay tuned for more updates as we get closer to the SUV's official launch.